Poetic Acceptance (Blog)
Poetic Acceptance for Grieving Parents
Sloppy Firsts dot Org
The Captured Mind
I Unfold
R33 Design
Scribblings
The Bars
Vickie's Writing Place
Contraptions
Moontown Cafe
Strong Women & Whiskey
The Endless Saga
Homewoods Rescue for the Wayward Hound
If Wishes Were Diamonds
Stomping Through Mudpuddles


Tuesday, April 25, 2006
*groan* Ever wake up in the middle of a dream (not by your own choice, of course) and find yourself feeling about the same weight as a small pick-up truck and about as clear-headed as a tub of Play-Doh? Well, that's me this morning. I was in the middle of this weird dream involving the beach, a boat, my dog and another pitbull, a tropical bird of some sort, Jay, summer camp and pretty much every guy I ever wanted and couldn't have. (The ones I did have who weren't worth the effort were notably absent from this dream.) Anyway, Indie woke me up just as I was watching a band of girls trash our summer camp cabin, in the style of The Parent Trap, except the string they were winding around the bedposts was part of something another girl had been knitting and everyone know she was going to be devastated that it was destroyed. Fucking weird. Don't think I'll be trying to decipher this one with my shrink -- after all, I only have an hour. *yawn*

Somehow I slept in until almost 10 today. I have to be at work at 1:30. I am trying to get up the motivation to take Indie for a walk. It's been cold and rainy for the last few days, so we haven't gone and she's starting to give me those eyes... The ones that say: I've been good and I love you sooooo much. Why have you taken away one of the only things I love? Well, that's what I imagine they say. They probably actually say: Why are you staring at me?

Guess I should go. It's good for us both, right?
Posted at 10:04 AM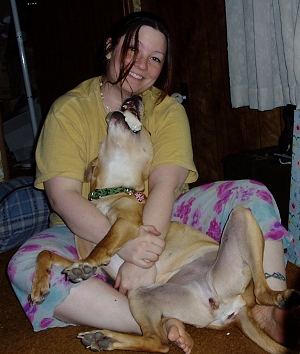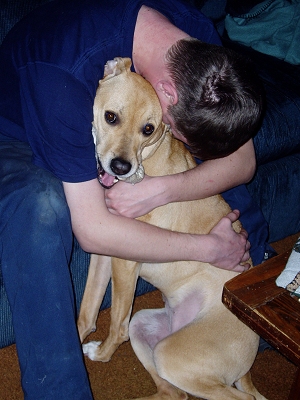 Stinky (aka Indie, Goon Dog, etc.) loves to be loved while she has her chewy in her mouth. It's bliss for her I guess, to get a chewy and a belly rub at the same time. She even moans softly with happiness. Isn't it friggin adorable? I love my dawg, pain in the ass though she may be.

Today I went to Dianne's bridal shower, ate some food (which has since given me major GI upset), played some cheesy games and made a break for it as soon as each table got two rolls of T.P. for use in decorating the bride. They were seriously going to make us create a wedding dress out of toilet paper. Is this traditional? If so, I have never been so sure that when the time comes, I don't want to go traditional. I don't mean to sound ungrateful -- I appreciated being invited and everything -- I just loathe chick functions. I go to them because it is expected of me, but I don't have to like it, right? I am like the anti-chick. Lol. OK, not all the time; I do have my pink scarf and mittens. However, most cliche girl activities are not my cup of tea. I don't want to sit around and gush and squeal. No siree.

I don't really have anything else to share. Tomorrow is chore day -- oh what fun! I will most likely think of something stupid to blog about to divert myself from doing laundry or other mandatory task. Until then...

P.S. Did you know that Blogger spellchecker doesn't know the word "blog?" How funny.
Posted at 9:44 PM



*yawn* Half days are half awesome; it's kind of a cruel bait and switch on my brain that I get to sleep in but still have to go to work later. Don't get me wrong -- I love my job. We've hit the spring rush though and it's been pedal to the metal all day every day and I am pooped!

Bleh. I guess I'm not really in the mood to blog, so I'll just leave it at that. Lol. How self-indulgent of me. Well, it is my blog after all.
Posted at 9:08 AM



Shameless birthday wishlist: CLICK.

I've officially joined the ranks of the web beggars. What is the world coming to?
Posted at 4:19 PM



Well, I have lost 4 pounds as of today. I just went through my Weight Watchers box of goodies, which came today, and although it's exactly what Barb and Jenn explained to me (principles which I have been applying for the last week), somehow seeing the books and charts and official copyrights makes it seem more serious and complicated and difficult. I guess I just have to remind myself that it's already working - all I have to do is keep it up.

I have been walking with Indie a lot lately. I have a "loop" I do which takes ten minutes, walking briskly, and I've been doing it before work, on my lunch break and again if I'm home before dark. My legs already feel stronger and Indie is soooo happy. She's much more relaxed and less neurotic lately. I am always telling people with highly intelligent, energetic dogs that they key to keeping them from becoming totally obnoxious is activity. You'd think I would have wised up and taken my own advice way before now... I guess I have just lacked the motivation, plus there was nowhere safe to walk where I lived in Manchester and we're just coming out of winter, which is not very conducive to outdoor activity if you're me (and Indie - who won't wear booties in the snow but also refuses to walk if her feet get cold.) *shrugs*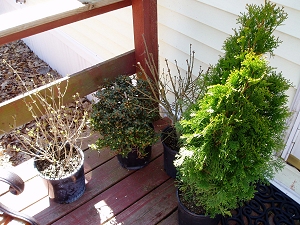 I got a bunch of little shrubs at the grocery store last weekend 'cause they were only $13.99 each and all fairly nice specimens. Not like when WalMart has poinsettias on sale at Christmas, for example, and each one has like three red leaves on it. Anyhoo, I got a Dwarf Korean Lilac, a Burning Bush, a Purple Gem Rhododendron and an Emerald Green Arborvitae. The lilac already has tiny little purple buds on it. I have to get them in the ground this weekend.

It's been incredibly busy at work - spring has sprung. Here's one of the reasons I love my job: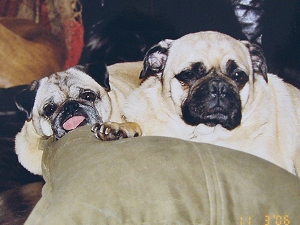 Bubbles & Keebler



Anyway, just wanted to touch base. Happy weekend, y'all!
Posted at 9:09 PM




DISCLAIMER: I got a cup of coffee at like 6pm and I am rattling away like a lunatic.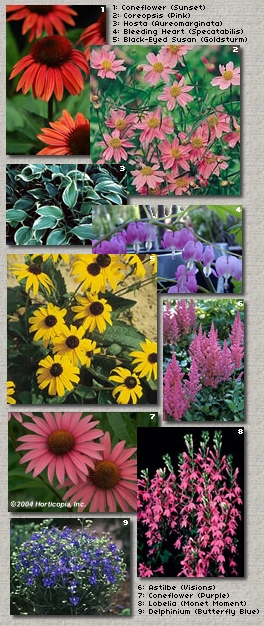 I am on a somewhat scary shopping kick lately. Not only did I spend all that money at the mall last weekend, yesterday I had a pair of Crocs sent to George (step-father) because he liked my mom's and he's done a lot for me. Earlier today I went to WalMart and bought the bulbs and miscellaneous items described in the post below. (Narnia was awesome, incidentally.) Later, I went out to Walgreens for photo paper and came home with that plus body lotion and a few other things. A few hours ago, I ordered more Crocs -- another pair for myself and a pair for my sister. Then I joined Weight Watchers online. Now I've just purchased all the plants you see in the pic above. It does seem a bit excessive to me, but I am a total penny pincher and I guess it feels good to be able to splurge now and again. Besides, a good chunk of it is house stuff (the bulbs, plants, shovel, shrubs, etc.), and I am not about to apologize for that. This is my first house we're talkin' about! Anyhoo...

Question for any gardeners who might be reading: I live in Zone 5. The azaleas I bought at WalMart were presumably grown indoors and are already in full bloom. Azaleas in New Hampshire are currently a ways from blooming. If I get these new ones in the ground and prune them (heh, I initially spelled that "proon" - coffee coffee coffee!!! Weeeeeeeeee!), will they acclimate better and possibly bloom again this season?

Eeeeek. I have so much friggin diggin to do!!

Ooooh, I almost forgot the best part. I had a moment of intellectual pride this evening when I put my problem solving skills to the test. (That doesn't happen often, so even the littlest things amaze me). You see, in a burst of spring fever, I started my seeds way to early and they're already huge. They still have to stay indoors 'cause it's too cold, but the cats are now trying to eat them -- and for those of you who might not know, morning glories, which are about 40% of my seedlings, are toxic to cats! The only safe place I could find for them was a three-shelf wrack in my kitchen, around which I wrapped a piece of translucent plastic and put the flat of seedlings inside, creating a sort of "cell," if you will. Well, it still didn't get enough light and it was a pain in the ass to get it out and water everything, so this is my solution: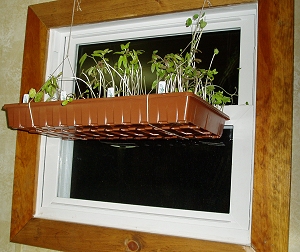 Ain't I a genius? Lol. Just kidding. All I needed was a hammer, two nails and some string. I suspended it from the window that gets the most light. Cats can't reach, watering will be easy, plenty of sun. Voila!

Yup, I'm quite pleased with myself.

Anyway, I should probably go try to bore myself to sleep or something. We have company coming tomorrow and it'll be no good if I'm still in bed when they get here. Sweet dreams!!
Posted at 12:27 AM



I talked to Jay for a while last night about Nova. Part of me is admonishing myself for feeling so sad - after all, he's not my baby, I've never even met him, I've never even met his mother. Hell, we've only known each other online for a little over a year. I am sick to my stomach over it though; I am grieving and mourning his loss so much more intensely than I ever would have anticipated. I try to tell myself that he's in a better place and it doesn't do anybody any good to dwell on it, but thinking about the fucking tragedy of it all makes me feel like someone is trying to pull my guts out. I don't really know how to grieve, I guess. I don't know where grieving becomes fixating. I am wondering if I'm running energy for Erin (cords, for those who may remember), because this can't all be my pain, it just can't. But maybe... I'm boggled by the whole thing, to be totally honest. Anyway...

I just got back from WalMart where I got Narnia, a shovel, six azaleas (50% off!), some chewies and two wicker dog beds for Eenie (also on sale!) and a ton of bulbs. They'll look good if that damn mutant squirrel doesn't dig them up before they can bloom. He's gotta be the size of a small cat and has quite a stash, lemme tell ya. He's very happy that I raked, because since then, he's been able to dig up all the acorns he buried in the fall and my yard is peppered with holes. *sigh* I'm not really annoyed, it's just something I've never had to worry about, living in a third floor condo.

Hope everyone's having a lovely weekend.
Posted at 12:42 PM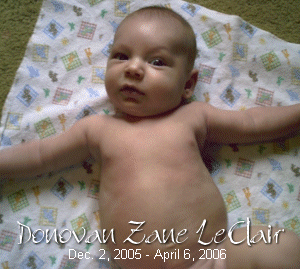 Posted at 6:53 AM



I realize that it's New Hampshire and I realize that this happens every year and we shouldn't bitch about the inevitable -- and honestly, kind of a right of passage for spring in the Northeast -- but seriously...


http://www.wmur.com/weather/8482495/detail.html

I had to bust out the scraper and shovel again yesterday.

Posted at 6:07 AM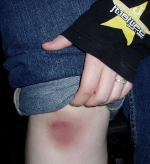 Yesterday was a good day until I accidentally stepped off the raised wooden walkway in the dark, lost my balance and landed on my good (though maybe not anymore) knee. Purty, ain't it? I don't think I've ever seen a bruise appear so fast. I put Arnica on it and iced it with a bag of peas (no icepacks in my house) immediately and I am quite sure that's why I'm mobile today. Woulda been worse.

Jenn and I had a blast at the mall. I got an MP3 player so I will have something to listen to when I take Indie for walks. Also got a cute ring and choker at Sears, a bunch of anti-bacterial hand lotions for work, and a copy of The Chronicles of Narnia, which Jenn and I want to read before we see the movie. I think I read The Lion, the Witch and the Wardrobe when I was a kid, but I don't remember a thing. So I'm looking forward to that.

Today I went to get groceries and also stopped at Bootleggers and got a pair of Crocs for myself and a pair for my mom. These are a huuuuuge trend in my neck of the woods right now and most stores have very slim pickings. Although I am generally opposed to anything trendy, I have always been a fan of comfortable (even if not beautiful) footwear. I was ready to buy another pair of Birkenstocks when much to my horror, I discovered that they're now upwards of $100 a pair, and that's just for the sandals. What I really wanted was clogs, which were in the vicinity of $130. Well, I decided to get me a pair of Crocs for $29.99 instead and I love them. I highly recommend them. Be careful with sizing though; they run a bit large and there are two versions that look similar but have different sizing: the Beach model and the Cayman model. Beaches are sized as follows: women's XS(4-5), S(6-7), M(8-9), L(10-11) and XL(12-13). I fit into a Small Beach (6-7) at the mall yesterday (didn't buy 'cause they didn't have any colors I liked). The Caymans are sized in whole numerical sizes and the 8 was my best fit. So know what you're buying and try them on!




Also wanted to share this pic: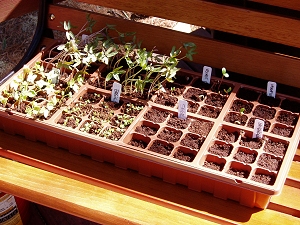 I planted these on Monday and the morning glories, which I seem to have a way with, came up on Wednesday. They're supposed to take 10-14 days to germinate! I forgot how out of control they get inside... I started a bunch inside a few years ago and by the time I could put them outside, they had climbed my house plants and were creeping up the walls. Maybe that's why I like them: they're a bit manic.

Anyway, thank you so much to everyone who has commented and been supportive regarding my last post. I have to admit, it feels good not to hide it anymore, not to be the only one who knows. Secret's out! I don't know where I go from here, but just having you guys there makes it seem easier. Much love and thanks for that.
Posted at 2:41 PM