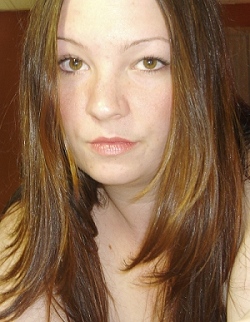 I am not interested in:

- your drinking stories
- how hard you party
- talking dirty
- any email the contents of which is limited to "hey sexy"
- participating in your perversion/ego placation/girlfriend issues
- IMs
- camwhoring
- camchatting
- or the excrutiating minutia of other cliche MySpace/internet shit.

Exception: those of you who know very well that I love you and want you.

Phew. Thank goodness that's out of the way. Now on with the gratuitous self-absorption...

I am an undereducated overachiever, meaning that I didn't go to college and now I know what everyone meant when they said it was a shame. (However, I was very lucky to find my niche in veterinary medicine without a degree.) I read, write, sing, take pictures, design websites, grow flowers, and make mean steak tips. I love to be outside. I love getting dirty. I love loud, live music and kamikazes. I am often cynical but have a heart of gold. I would do just about anything for those I love...and I don't love many people. I don't even truly like many people. I have rejected the term "snob" forever, but truth be told, yeah, I'm a snob. Life's too short to waste what little free time I have being with people whose company I don't enjoy. Don't send me hate mail for being honest.

In all seriousness, I am not a jaded bitch, I am just allergic to superficiality and figured the best defense is a good offense. I hate melodrama, head games and popularity contests. Please leave your baggage at the door.

I am interested in meeting genuine people. I just ended a long-term relationship and am not looking for a quick hook-up or to f**k away my sorrows. That being said, I am totally open to spending time with the opposite sex. I just want you to be you and let me be me -- and make sure we're both on the same page. I am not one of those girls (or guys) who has to be in a relationship at all times and I do not bounce right from one to the next. This does not mean I am dead set against love if it comes along -- I am just not activelty seeking it.

As for the particulars, indulgence in and/or appreciation of the following wouldn't hurt: Carhartts, campfires, animals, poetry, thunderstorms, roadtrips, tattoos (good ones!), a good steak, footrubs (had to give it a shot, right?), bare feet, music... The rest of these were taken directly from my senior writeup in my 1996 yearbook and were originally posted as "Things to Be Happy About": pajamas at breakfast, beach sunrises, driving under an overpass during a rainstorm, a good nite's sleep, refunds, cottage cheese, anesthesia, making friends with the police, brilliance, noise, smooth, muscular backs, the panic button, saying yes, log cabins, warm rain and thunder, washing cars barefoot, motels, Jeeps, getting carried away, falling in love, tiger cats, strawberries, experience, princesses, imagination, whispering, boys, swingsets, guys' jeans, Sony Play Stations, Oodles of Noodles, crowds, gas station cappuccino, philosophy, spare car keys, AAA, The Wizard of Oz, full gas tanks, puddles, cities, broccoli calzone, Ben & Jerry's, suntan oil, stars, zippers, middle school, back roads, loopholes, trails of dust, rope swings, road trips, Denny's, photo booths, income, mad love, Tom Robbins, vampires, erotica, laughter, Elvis, temptation, indulgence, Harold & Maude, roses, eerie feelings, intuition, mythical monsters, clerks, mallrats, siblings, car chases, pig piles, satisfaction, Annie's All Natural, mud flaps, subways, fireworks, lightning bugs, infatuation, dandelions, steamy nites, parole, basset hounds, lilacs, hair dos, heros, skid marks (the tire kind), pairs, backrubs, schemes, Dunkin' Donuts, Store 24, forgiving, Natural Born Killers, Wallace & Gromit, Ross & Rachel, deciding, Sid & Nancy, kicking back, moving on, chaos & entropy, old friends, new beginnings, making memories, fond farewells...