Friday, September 29, 2006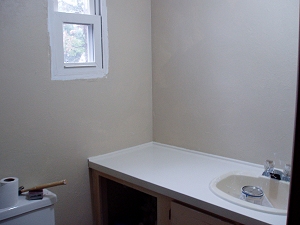 It's 2:52 in the morning and I can't sleep -- no thanks to you-know-who-you-are!

If I had any sense, I would have taken something to help me sleep around 8 or 9PM like I usually do (believe me, it's the lesser of two evils when you've been an insomniac since you were 12-years-old), but I was having a very good time chatting and by the time we were done, it was too late. If I had taken anything, I'd still be groggy in the morning. So now here I am, buzzing away. I feel deliriously tired but can't fall asleep, despite lying in bed for an hour and a half. Lol. This is crazy. Anyway...

So there's the latest pic of the bathroom. I have kind of lost interest in it (as I often do once I have made a big enough mess of something), so my grooming and bathing routine continues to be bizarre and haphazard: brush teeth at the kitchen sink ('cause there are bits of plaster of Paris in the bathroom sink and I dare not run the water until I have picked them all out), do makeup in the living room, deodorant is on the utility shelf next to the washer/dryer. LOL. Maybe I'll get to finish up this weekend. I surely need to.

*sigh* Nothing really major going on lately. Well, aside from hitting it off in a giddy, somewhat overwhelming way with someone I never would have guessed I would. Oh, and I have also decided to start doing pilates. I ordered the Winsor Pilates DVDs online a couple weeks ago and did them for the first time Wednesday night. I have to say, I was pleasantly surprised. The routine was easy to follow, definitely felt it working and was over before I knew it -- all the elements necessary to hold my attention..as far as exercise goes anyway. Lol. So I plan to sculpt my body slim. Lol. I have been reading too much promotional material.

*even bigger sigh* At this moment, somewhere in the UK there is a very tired guy going through military physical training on no sleep and I had everything to do with it. That poor fool. I don't know if I am worth that kind of suffering!



TGIF, y'all. I can't believe I am up at 3:05 in the fucking morning...
Posted @ 3:06 AM




Sunday, September 17, 2006

OK, the ceiling is done and the walls have been primed. However, whilst removing the wallpaper, the top layer of the drywall also tore off in a couple places and the primer didn't hide it, so I have had to spackle those spots and will be sanding again soon...

I went to Home Depot this morning because I also realized I had to caulk (he he, I said caulk) the seams where the shower meets the wall. I also filled the corner seams.

All this, and there's not even any fun color yet. Sheesh! At least I'll have something to be proud of when I'm finally done.



Posted @ 5:09 PM




Saturday, September 16, 2006

I recently decided I wanted to paint my bathroom.

I had an appointment in Manchester this morning and had to pass Lowes on my way there and back, so I stopped on my way home to pick up a few things. (I could have gotten paint elsewhere, but I am 110% sold on American Tradition, which is only available at Lowes.) Anyway...

So I got a color for the wall, a color for the hideous blue counter and some white for the trim. Because I lack the ability to keep it simple, I decided I wanted to do a crackle effect on the cabinets, which necessitated a special glaze and topcoat (I don't know what they call it in real paint, but that's what it would be in nail polish!) While they were mixing my order, I had time to think about the ugliness of the window frame, which is made (and sloppily so!) of pine boards painted white, so I bought some trim. Of course, I had to get an edger, some new drawer pulls and a few other things. When all was said and done, I had $120 worth of stuff.

I got home and assessed the bathroom. Then I moved everything out. This included every beauty product, the scale, the toilet brush, the shelving unit, and everything in between. I removed the medicine cabinet from the wall. (Gonna paint that too, of course, 'cause I can't keep it simple.) I removed the towel rod.

I didn't think it made any sense to paint over wallpaper. Besides, evidently mobile home builders can't be bothered to spackle drywall, so along the every seam, there is a strip of wallpaper-covered wood which looks like shit. I resolved to rip down the wallpaper and the wood strips. This took some doing.

When I got that done, I had to fill the holes left from all the things I removed from the wall and tape and spackle the seams. That is still drying and is yet to be sanded.

Did I mention that whilst researching the proper way to paint laminate (after I had been to Lowes, of course) I discovered that latex paint -- what I bought -- is not recommended? And do you know how hard it is to find a company that makes Alkyd (oil-based) paint? I had to go down to Sherwin Williams and of course the cock-eyed guy behind the counter was all pissy with me when I asked him to match an American Tradition color chip. Screw you, Paint Boy! Anyway...

I realized I need to prime the ceiling before I paint it. Not just because that's the right way to do it, but because the biggest leak in my goddamned roof was in the bathroom and there is a huge water stain. So I primed the ceiling. It's definitely gonna need another coat -- maybe even two -- and then the actual ceiling paint.

Before I can actually paint, I have to sand down and respackle, sand and respackle, etc. Prime walls and trim. Sand counter to improve adhesion and prime. Cabinets will need: primer, paint, crackle glaze, paint, top coat...

You're probably asking yourself: what's the point?

The point is:

WHAT THE FUCK DID I GET MYSELF INTO???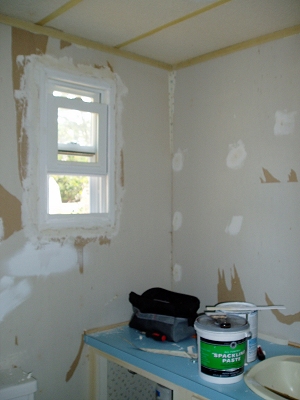 Posted @ 3:29 PM




Friday, September 08, 2006

Long fucking week, if I do say so myself. The brief rundown: My eye surgery has been cancelled until probably March due to work scheduling bullshit, but I don't really want to get into it right now. I probably have a roofer coming next week to finally get that issue resolved. I am going out to Olympia, WA to see my sister at the end of October, which I am psyched about. Monte and Whimsy are finally getting along (actually, they're playing right now and he sounds like she's killing him, but it's all in good fun...I think.) Indie heard a Harley the other day and just about lost her mind thinking it was Jay. I wish I knew how to explain things to her, like my parents tried for us when they split, but she's a dog and I have no idea how to make her feel better, so I just tell her I love her and that he loves her. What else... Found a decent state park in Northwood and took Indie for a hike on Saturday which was nice.

I returned some movies tonight and the 40- (maybe 50-) something guy behind the counter made a comment about giving my other rental card to Jay (he was on the account and must have been up on the computer screen.) So I said, "Actually, you can take him off the account." Didn't offer any more information than that. Then the guy says to me, "Awh, that's too bad. There's a lot of that going around. Let me guess? You thought you wanted a bad boy but when you got him, you decided it wasn't what you wanted but you couldn't change him? See, one thing you girls will never understand: you can't change a bad boy. Am I right?" I was too fucking tired to debate with this halfwit, so I just said, "Something like that." Even though it was nothing like that. Whatever. I'd prefer my unsolicited advice delivered by a bartender serving me something in a shot glass, thankyouverymuch!

One last highlight of my day: I stopped to get a steak and cheese sub with mushrooms tonight and at the register, there was a beer cozy that said: I still miss my ex, but my aim is getting better. I think I snickered out loud. I have absolutely no animosity toward Jay whatsoever, but it was still funny.

Anyway, T.G. Fucking I.F. Hope everyone has a lovely weekend.
Posted @ 8:20 PM