Saturday, December 31, 2005

Two things I forgot to tell you:

1. The insurance money is coming soon and is about three times as much as I expected

and...

2. I'm engaged!

Happy New Year!!!!!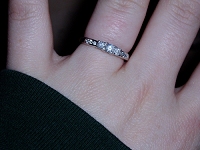 Posted @ 4:35 PM




Thursday, December 29, 2005

It would appear that I am remiss once again when it comes to blog updates. Some things never change.

Well, I came home on Tuesday and somehow made great time -- just under 9 hours if you subtract the time I lost when I was tricked into thinking that an exit in New York had gas nearby and ended up driving 4 miles from the Jersey Pike to pay $2.59 (instead of the average $2.15!) a gallon. Jeepers! Anyhoo, the trip was good. It was a lazy, laid back time which is what I needed. Indie was awesome (except when someone else started shit with her) and I was relieved not to have to run interference the whole time. Chickie was as unbelievably cute as ever and it was hard not to accidentally pack her in my car. If I may allow myself some totally unstructured diversion, Chickie is just such an amazing little dog. I can only guess that she has some whippet in there somewhere, but other than that, anyone's guess is as good as mine and I do stuff with dogs for a living, so... Anyway, she has always been a little rocket and shy. It took me like a week to get her to come near me when I first met her. And despite the fact that it's been over 2 1/2 years since I was in Maryland, while my mom and I were walking the dogs, Chickie spotted me across the corn field -- before I had even had a chance to say hello to her -- and did her silly little Chickie dance. She spent the rest of my vacation glued to me. *sigh* I'm such a sap when it comes to a cool pet.

Yes, indeedy.

So another sappy pet thing that happened on vaca was the young, very sick and injured kitten that some redneck asshole dumped at my mom's Christmas Eve. It appears that she suffered some kind of bite wound by a much larger (probably canine) animal and evaded capture and therefore treatment for so long that it abscessed and somehow caused immobility in her elbow joint. The guy said that she hadn't been sleeping in the barn with the other cats and he found her every morning out on the open, covered in frost. (My guess is that the other cats smelled the infection and instinctively wouldn't let her in the barn.) He brought her to my mom so my mom could bring her to the humane society to be euthanized, but you know me: gotta give them all a chance... I got her out of her crate only to have her urinate all over me out of sheer terror -- she had never once been handled and was borderline feral. I brought her in the house and my mom washed her in the kitchen sink and removed the gigantic patch of scab and hay and dirt that had formed over the largest puncture. She was obviously fucked up, but not hopeless by any means. We cleaned her ears and treated her for fleas and afterwards, though I thought this teeny little fleaball wouldn't allow another moment of torture, I wrapped her in a towel and tried to get her to eat...and eat she did. She ate until she was about to pop and then slept for hours in my arms purring like a mad woman. It was so hard for me not to bring her home to make sure she not only healed, but was loved beyond her wildest dreams, but I need another cat like I need a hole in the head, so she is still in Maryland. She will never be a housecat or get to sleep under the covers, but at least she'll have a warm place to sleep and decent food. Right? Right.

My other amazing discovery is Tom Robbins on CD. I grabbed Wild Ducks Flying Backward at Barnes & Noble before I headed north, in case I found myself choosing once again between silence and "guilt-free Christian listening" (no, I am not kidding) on my way home. I was so anxious to hear the man's voice -- the man who is on my fantasy list of people I wouldn't kick out of bed under any circumstances, and solely due to the eccentricity, sexy perversion and sheer brilliance with which her writes -- that I was almost afraid to listen to the CDs. Alas I got over it and listened to the first two in the collection. He sounds older than I imagined, with a slightly southern drawl and his voice is full of road grit and experience and has the telltale smack of dentures. It was not what I expected, but delicious nonetheless. Mmmm hmmm.

I have to go stir Jay's Annie's and hotdogs. Hope everyone's having a lovely week. Here are some pictures for your viewing pleasure.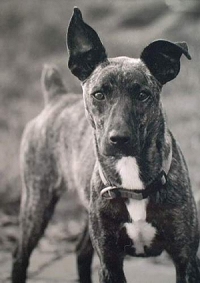 Chickie

One of Sarah's 4H kids donated a dog bed to my mom's rescue and in the pictures below, you will see that all the residents had to try it out...even Sadie the redbone coonhound, who was entirely too large!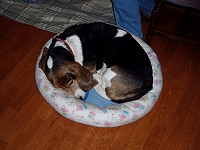 Moby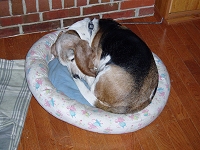 Whoopi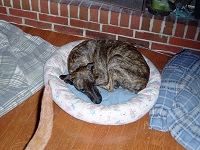 Chickie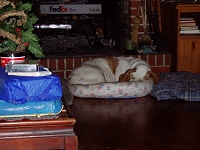 Katie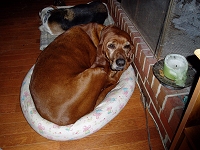 Sadie


Posted @ 7:43 PM




Sunday, December 25, 2005

Merry Christmas, because today is Christmas and I am therefor being correct. We had a very laid back day and George finally reappeared from assessing the condo situation. We had turkey, taters, peas and stuffing as well as an apple pie and a pumpkin pie. (Incidentally, I don't like the French vanilla Cool Whip. I'd recommend sticking with the original.)

I went up to take a nap after the triptophan kicked in and Indie tried to jump on the bed as I bent over to pick up my dirty socks and BAM!!! I put my two front teeth into my bottom lip. No, not onto, into. Friggin deep. It bled a lot and now I look totally retarded 'cause it's huge and purple, but I guess I should be grateful that it wasn't bad enough to need sutures. Damn. I woke up from my nap with the collar of my sweatshirt soaked because I was drooling with my lip this huge. What a sexy biatch I am. Lol.

Anyway, hope Santa was good to you all. Merry Christmas to all and to all a good night!
Posted @ 7:38 PM




Saturday, December 24, 2005

Just a quickie from Maryland... Things are going fine. Jay is still in NH which is sad for me, but we will be doing our Xmas on New Year's Eve and I am looking forward to that. For me, the damned green grass and 55 degree weather here has ensured a lack of Christmas spirit, so I am just treating this as good time with Ma. George, ironically, is up in NH doing who-knows-what with the condo and probably cursing me the whole time...though much of the damage was done before I even moved in. Anyhoo... Indie is being wicked good and I am very proud of her. Marth and I have just been chilling out. I'm thinking I'll go take a nap...

MERRY CHRISTMAS (and happy holidays! Gotta be PC, right?)
Posted @ 11:34 AM




Saturday, December 17, 2005

*yawn* G'morning. Sorry to anyone who's been coming her to read something new. It's not that I haven't been online, I just haven't felt like posting. *shrug* You guys know I go through anti-blocial (that's my new word for anti-social about my blog) phases.

I am hoping that Jay and I are going to the condo today to get the last of my stuff, which includes the Christmas decorations and tree up in the loft. I think part of the reason I haven't gotten into the spirit is not only hectic nature of moving, but also the fact that there's almost no evidence of the holidays in this house at all. So it'll be good to go -- get the rest of our stuff, finally be totally done with the condo and spend the rest of the day decking the halls.



Other than that, nothing's really been going on. I am planning to drive to Maryland next week to have Christmas with my mom (and George) and unfortunately Jay will be staying in New Hampshire because he waited until last month to ask for a couple days off. I thought about staying here another year, but as much as I loathe that drive (I have to drive because I have to bring Indie and she'd lose her mind on a plane), it'll be good to just chill out and do silly traditional stuff with my mom. I have had Christmas with Jay's family the last two years and it's not that I don't like them or anything -- they're actually all great -- it's just not the same. So that'll be good. Hopefully we'll be spared any Noreasters until I've gone and come back!

My only other thing to share lately is cookies. We did a cookie swap at work and I found myself wishing I had kept my own cookies. Lol. What a brat I am, I know. But anyway, these are two awesome recipes I found by following blog links -- I don't remember where they came from now.



Chewy Ginger Cookies



Ingredients:
2 1/4 cups all-purpose flour
2 teaspoons ground ginger
1 teaspoon baking soda
3/4 teaspoon ground cinnamon
1/2 teaspoon ground cloves
1/4 teaspoon salt
3/4 cup margarine, softened
1 cup white sugar
1 egg
1 tablespoon water
1/4 cup molasses
2 tablespoons white sugar

Directions:
1. Preheat oven to 350F.
2. Sift together the flour, ginger, baking soda, cinnamon, cloves, and salt. Set aside.
3. In a large bowl, cream together the margarine and 1 cup sugar until light and fluffy. Beat in the egg, then stir in the water and molasses.
4. Gradually stir the sifted ingredients into the molasses mixture.
5. Shape dough into walnut sized balls, and roll them in the remaining 2 tablespoons of sugar.
6. Place the cookies 2 inches apart onto an ungreased cookie sheet, and flatten slightly. I used the bottom of a mug.
7. Bake for 8-10 minutes (perfect @ 10 in my opinion.)



White Chocolate Cranberry Cookies



Ingredients:
1/2 c. butter softened
1/2 c. packed brown sugar
1/2 c. white sugar
1 egg
1 tbsp brandy
1 1/2 cups AP flour
1/2 tsp. baking soda
3/4 c. white chocolate chips
1 c. dried cranberries

Directions:
1. Preheat oven to 375F.
2. In a large bowl, cream together the butter, brown sugar, and white sugar until smooth.
3. Beat in the egg and brandy.
4. Combine the flour and baking soda; stir into the sugar mixture.
5. Mix in the white chocolate chips and cranberries.
6. Drop by heaping spoonfuls onto greased cookie sheets.
7. Bake for 8-10 minutes. For best results, take them out while they are still doughy.
Posted @ 10:05 AM




Monday, December 12, 2005

Indie does this weird thing where she rolls her bed across the floor through her back legs, in the same sort of position as a dog digs. She will sometimes spend ten minutes rolling it across the living room, through the kitchen and back again, balling it up and flattening it out and balling it up again until it's totally perfect. Well, I never really understood why she did it until I saw this last night: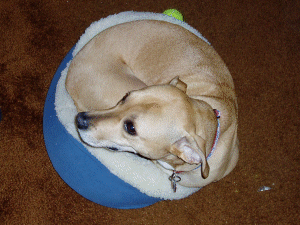 It's all about being snuggly. This is Indie -- my 50 pound dog -- after she crammed herself into a cat bed. Isn't that the friggin cutest thing ever?

Anyway, I ordered her a couple of cat-style dog beds for Christmas. I figure she deserves something nice too, right?
Posted @ 7:57 PM




Friday, December 09, 2005

I don't even know where to begin... This is the first time I have sat at my computer for anything other than frantic, last minute bill-paying since being here. Hmmm...

Well, the move went well. Dave (boss), being a super-cool person, rented us (well, me really) a U-Haul for use on Saturday. As it was in my name, I was the only one who could drive it, so when they called and left me a voicemail (which I didn't get until first thing in the morning on Move Day, because my cell phone battery was dead and the land line was disconnected) telling me that they didn't have the 17-foot truck they booked me and would have to put me in a 26-footer (!!!), I panicked. I consider myself a competent driver, but that's HUGE. I went down there and sat in the parking lot waiting for the jackass who was supposed to open the store at 7am. 7:05 rolled around...then 7:10...then 7:15 and he finally pulled in. Didn't have the sense to turn the lights on or unlock the door for another few minutes after that, so I laid in the horn. (At this point, there were 3 other cars waiting, so I figured as obnoxious as it was, it was a public service.) Anyway, we went in and were told again by the dipshit that they didn't have the truck. I somehow found my balls (they're almost never used), complained, held up the line and somehow a 17-foot truck magically became available. I've said it once and I'll say it again: customer service is a dying art.

So we brought the truck back to the condo and continued last minute packing. Barb was late, which was fine because we were moving like cold molasses ourselves, so we didn't start really packing the truck until after 9:30. Dan showed up slightly thereafter and we got all our crap packed in safely by a little after noon. We ate pizza in the empty living room and then I boarded the vessel and headed for the new place...

Those things are really hard to stop once they get going... I ran 2 red lights accidentally.

Barb had the pets with her, so she stopped at work on the way and dropped them off there -- just so we could be sure they'd be safe and secure. Dave came over to help unload and wasn't there 10 minutes when Michelle called to tell him that the alarm was going off at work and the police were there. (This was not good news for the man who not only paid for my U-Haul, but took the time to help unload when he could have been relaxing). He left and we kept unloading.

Dave returned later not in the livid mood we were expecting, but actually laughing because Dimitri (Jay's cat) got out of the cage and set off the alarm when he was roaming around the treatment area. So everyone was on high alert and the police were ready to bust some shithead kid for trying to boost some ketamine when out from behind the xray processor slinks this terrified cat. *chuckle*

OK, so we unloaded the rest and ate something for dinner. My TempurPedic was rock hard from being in the cold U-Haul, so we cranked the heat to soften it up. Went to bed early, didn't sleep a wink due to excitement, the quiet, the darkness...just the difference. Got up early and went out to get some stuff for breakfast. After we ate and relaxed for a few, we headed to the condo again to pack up the fish tanks. That was time consuming but fairly uneventful until I went to put the koi back into the big tank and as they had long since outgrown the net, I had to gently use my hands and one of them all of a sudden jumped and fell behind the tank on the floor. That was when I almost peed in my pants. I caught the stupid fish and everything seems to be okay.

Since then we have been slowly unpacking and putting things away. There is so much to do that it feels overwhelming at points, but the bottom line is that I am very excited and happy. Oddly enough, it feels like we've been here forever after less than a week. I guess that's a good sign.

In other news, we got over a foot of snow today. We were expecting 5-10 inches but I think it ended up being more like 12-15 in most areas. The wind kicked in in the middle of it too, so the drifts were unreal.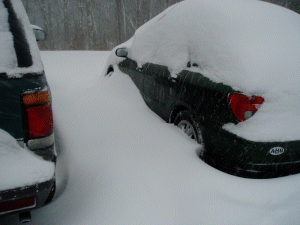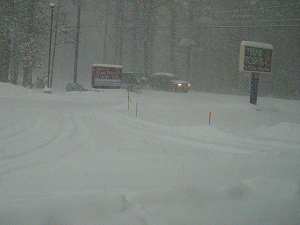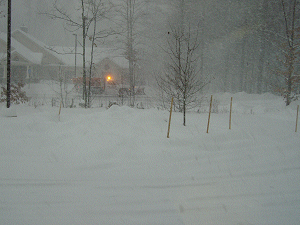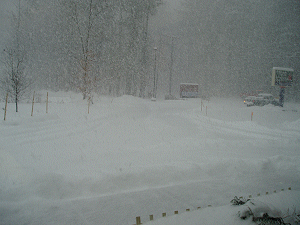 The other pic I am posting is one of the best visual arguments I have ever seen for not smoking. Let me first tell you that when I first came here to check the place out, I took pictures. When I downloaded them, they all had this yellowish tint to them and I thought it was due to bad lighting or my battery dying or something. Well, when we came to clean Friday night, this is what happened. A few sprays of Lysol kitchen cleaner and it was like someone splashed a pot of coffee on the wall. Nasty!!!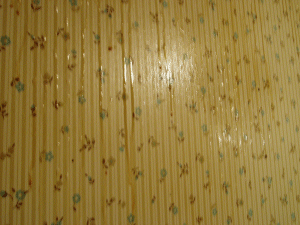 *yawn* Anyway, I guess that's it for now. Oh, courtesy of Rome, I now have a gmail account. I will be using that instead of Hotmail. whimkat@gmail.com.

Have a great weekend!!!
Posted @ 10:30 PM




Thursday, December 08, 2005

Well, we have internet now, but Metrocast makes it a bit difficult to set up a second mailbox (Jay was there the day they came, so he has his all set) and I am still waiting. In the mean time, I can be reached at indigowhimsy@hotmail.com.

Hope everyone's doing well. Much love and congratulations to Erin and Scott for the birth of their son Donovan!
Posted @ 8:55 AM




Monday, December 05, 2005

Quickie from work... Internet should be hooked up at the house today. I am so stiff and sore that I am walking like the tinman without oil -- as if I have no joints at all! But we are in, it is official and life is good. Will write a good long update as soon as I have internet. Oh how I miss it!
Posted @ 8:35 AM